Prize
The Norman B. Leventhal City Prize is a new interdisciplinary prize aimed at catalyzing innovative urban design and planning approaches worldwide to improve both the environment and quality of life. It was established in honor of Norman B. Leventhal, the visionary developer and philanthropist whose contributions transformed Boston's urban landscape. In its inaugural cycle 2019-2021, the prize solicited novel responses on Equitable Resilience.
Winner
Malden Works is a new, experimental resilience project in the City of Malden, Massachusetts. Bringing together a new coalition of community leaders of color, youth, environmental advocates, and government stakeholders in action, this project will demonstrate a community-led planning and design process for the creation of a new flood-resilient public open space on Malden's industrial riverfront. Malden Works proposes an innovative 'both-and' model, resisting waterfront gentrification while introducing essential climate resiliency improvements with existing industrial uses and open space. Starting with the only publicly owned parcel along Malden's riverfront which houses Malden's Department of Public Works, the physical transformation of the project site and the planning process will serve as a precedent for realizing the community's larger Malden River Greenway vision for an accessible pathway along the length of the river, designed for public recreation and enjoyment. The project also seeks to serve as a model for the equitable and resilient transformation of similar urbanized waterways in metro Boston and beyond.
Finalists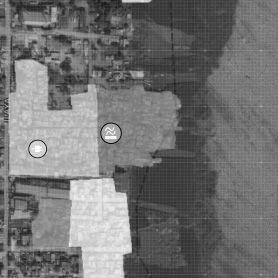 Planning for Equity and Security in the Face of Climate Change in Metro Manila proposes an interdisciplinary and multi-sectoral collaboration that explores an evidence-based approach using engagement, technology, and urban design to cater to low-income residents vulnerable to climate change and socio-economic inequities within the National Capital Region of the Philippines. The project blends an inclusive engagement process with the local communities in Barangay Alabang in Muntinlupa City with the development of a risk assessment and climate-based planning and zoning tool. This process will allow a synthesis of qualitative and quantitative data as part of an innovative approach to evidence-based planning and design. Additionally, the tool will be used to develop new strategies for retrofitting existing informal settlement communities to improve the built environment and protect communities from future flooding while maintaining or improving access to current social and economic networks.
PI: Lecturer Mary Anne Ocampo, MIT Department of Urban Studies and Planning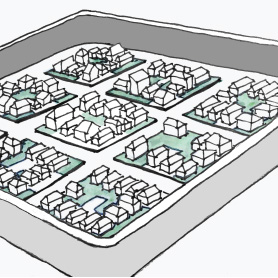 Grounding Resilience: Housing as Equitable Infrastructure for New Orleans. Nearly a decade and a half after Hurricane Katrina, New Orleans faces two linked challenges: mounting flood vulnerability and a crisis in neighborhood affordability. To address these paired crises, this project proposes a program of innovative research, teaching, and project delivery that we call Grounding Resilience. Many previous efforts have treated flood resilience and affordable housing as separate challenges. Some have placed these aims in conflict, for example proposing green infrastructures that would displace affordable neighborhoods. This project treats these two goals as inextricably linked and seeks design and policy innovations that will simultaneously advance neighborhood stability and flood resilience. The proposal harnesses urban design for community land trusts in the cause of equitable resilience, creating scalable strategies through which each new affordable housing unit will increase the city's flood resilience and each new acre of green infrastructure will contribute to neighborhood stability. The project includes design and policy innovation across New Orleans neighborhoods, from the historic urban center to suburban districts.
PI: Professor Lawrence Vale, MIT Department of Urban Studies and Planning
Jury
Jose Castillo
Principal, a|911; Professor of Urbanism, CENTRO University
Nick Earle
Chairman and Chief Executive Officer, Eseye
Sarah Herda
Executive Director, Graham Foundation
Carolyn Kousky
Director, Policy Incubator, Wharton Risk Management and Decision Processes Center, University of Pennsylvania
Jo da Silva
OBE FREng FICE FIStructE DTech, Director, International Development, Arup
Dan Tangherlini
Chief Financial Officer, Emerson Collective
About
The Norman B. Leventhal City Prize has been established in honor of Norman B. Leventhal, the visionary developer and philanthropist whose contributions transformed Boston's urban landscape. His civic leadership drove Boston's urban revival, resulting in projects such as Rowes Wharf, Center Plaza, South Station, and One Post Office Square. In keeping with the mission of the MIT Norman B. Leventhal Center for Advanced Urbanism (LCAU) the Leventhal City Prize seeks to catalyze innovative urban design and planning approaches that will improve the environment and quality of life for citizens.
Sign up for updates