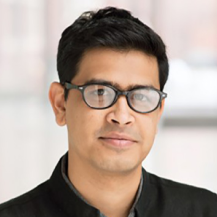 Aditya Barve
MIT Urbanism Risk Lab Lead
Research Scientist, MIT Urban Risk Lab
Aditya is a Research Scientist at the Urban Risk Lab, MIT. He coordinates the lab's research in India and Nepal. A graduate of MIT's Master of Science in Architecture Studies – Urbanism program, Aditya received his undergraduate degree in architecture from the University of Pune. His research interests straddle the intersections of vulnerability and resilience, preparedness and mitigation, in rapidly urbanizing environments.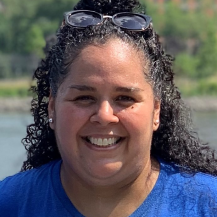 Annel Cabrera-Marus
Chief Program Officer, Green City Force
Annel joined Green City Force in 2021. Prior to joining GCF she was the Senior Director of Engagement and Programming for the New York Restoration Project. She has over fifteen years of professional experience in economic and community development, poverty alleviation, economic self-sufficiency, environmental justice and sustainability and workforce development; Annel has worked across sectors – government, private, and nonprofit. While much of her professional career has focused on New York City, she has worked on environmental justice issues in Buenos Aires, Argentina and workforce development in Memphis, Tennessee. Her passion and admiration for GCF began while she worked at NYCHA's office of Resident Economic Development and Sustainability as an inaugural Zone Coordinator focused on the Lower East Side and later the Manager of the NYCHA Resident Training Academy. She has a Masters of Science in Environmental Policy & Sustainability Management from The New School, Milano School for Public Engagement. Annel lives in Queens with her multi-generational family; husband Peter, toddler Clementine and mom, Yvonne.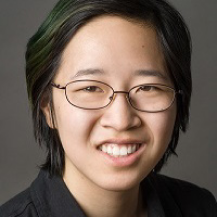 Lillian Chin
Graduate student, MIT Electrical Engineering and Computer Science
Lillian (Lilly) Chin is a graduate student at MIT in Daniela Rus' lab, working towards a PhD in Electrical Engineering and Computer Science. She received her SB and SM from MIT in 2017 and 2019, respectively, in Electrical Engineering and Computer Science with minors in Mechanical Engineering and Comparative Media Studies.
Broadly, Chin's research interests center on embodied intelligence -- whether it's how humans manifest their physical intelligence online through digital avatars or how robots provide physical form to algorithmic ideals. Chin has primarily focused on creating new actuators and sensors for soft robotic manipulators, modular volumetric actuators and computational material robots. All of these robots' advanced functionality derives from a systems-level design of their material properties, often aided through computational design.
Recently, Chin has begun using sociological lenses to better understand the social impact of these digital tools. She is interested in understanding how current conflicts in identity creation across new media such as video games and Internet culture can better inform the ramifications of wide-scale deployment of robots and algorithms.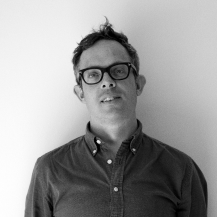 Nicholas de Monchaux
Co-PI
Professor and Head of Architecture, MIT
Professor of Urban Studies and Planning
Nicholas de Monchaux is Professor and Head of Architecture at MIT. He is a partner in the architecture practice modem, and a founder of the design technology company Local Software. Until 2020 he was Professor of Architecture and Urban Design, and Craigslist Distinguished Chair in New Media at UC Berkeley, where he also served as Director of the Berkeley Center for New Media. De Monchaux is the author of Spacesuit: Fashioning Apollo (MIT Press, 2011), an architectural and urban history of the Apollo Spacesuit, winner of the Eugene Emme award from the American Astronautical Society and shortlisted for the Art Book Prize, as well as Local Code: 3,659 Proposals about Data, Design, and the Nature of Cities (Princeton Architectural Press, 2016). His design work has been exhibited widely, including at the Biennial of the Americas, the Venice Architecture Biennale, The Lisbon Architecture Triennial, SFMOMA, the Yerba Buena Center for the Arts, the Storefront for Art and Architecture and the Museum of Contemporary Art in Chicago. His work has been supported by the MacDowell Colony, the Santa Fe Institute, the Smithsonian Institution, the Hellman Fund, and the Bakar Fellows Program. He is a Fellow of the American Academy in Rome.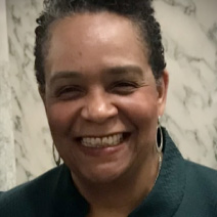 Tonya Gayle
Executive Director, Green City Force
Tonya Gayle is Executive Director of Green City Force (GCF). Prior to this, she led GCF's development team from July 2014 to September 2020. She is a board member of The Corps Network focused on national service, and Environmental Advocates of NY focused on environmental justice. Prior to joining GCF, Tonya served in public-private partnerships at the New York City Housing Authority (NYCHA) and the Sponsors for Educational Opportunity (SEO) Career Program. She has spent most of her career in nonprofit organizations focused on economic justice for young people of color. Tonya is a member of The New York Women's Foundation Circle of Sisters for Social Change, a graduate of Wesleyan University, and a native Brooklynite. She is an associate producer of the 2006 documentary The Perfect Life featuring young adults from Harlem. Tonya is passionate about providing young people with viable paths to create and lead a just and equitable world.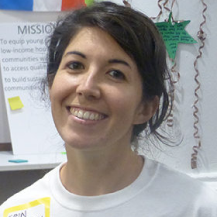 Erin Johnson
Director of Service Operations & Infrastructure, Green City Force
Erin Johnson is the Director of Service Operations and Infrastructure. She came to Green City Force in March of 2017 having spent the previous five years at non-profits fighting hunger and poverty, and working towards sustainability in our built environment and food system in New York City. Erin earned her MA at NYU in 2016 focusing on urban agriculture and community development, including a summer in Madrid researching the emergence of community gardens in connection to the urban social movement. After graduate school, she spent a season at the urban farm in Battery Park growing veggies and teaching youth. Erin is a Chicago native, but has become very rooted in Brooklyn through her community garden, volunteering with the Gowanus Canal Conservancy, and as a member of her local food co-operative. She holds a BS from Cornell University in beautiful Ithaca, NY, where she studied Design and Environmental Analysis.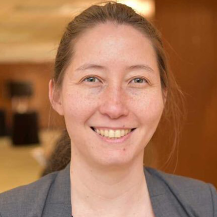 Miho Mazereeuw
Co-PI
Associate Professor of Architecture & Urbanism, MIT Department of Architecture
Architect and Landscape architect Miho Mazereeuw, is an associate professor of architecture and urbanism at MIT and is the director of the Urban Risk Lab. Working on a large, territorial scale with an interest in public spaces and the urban experience, Mazereeuw is known for her work in disaster resilience. In the Urban Risk Lab multi-disciplinary groups of researchers work to innovate on technologies, materials, processes, and systems to reduce risk. Operating on several scales, the Lab develops methods to embed risk reduction and preparedness into the design of the regions, cities and urban spaces to increase the resilience of local communities. Miho Mazereeuw taught at the Graduate School of Design at Harvard University and the University of Toronto prior to joining the faculty at Massachusetts Institute of Technology. As an Arthur W. Wheelwright Fellow, she is completing her forthcoming book entitled Preemptive Design: Disaster and Urban Development along the Pacific Ring of Fire featuring case studies on infrastructure design, multifunctional public space and innovative planning strategies in earthquake prone regions. Her design work on disaster prevention has been exhibited globally. As the director of the Urban Risk Lab at MIT, Mazereeuw is collaborating on a number of projects with institutions and organizations in the field of disaster reconstruction/prevention and is currently working in Haiti, India, Japan and Chile. Mazereeuw was formerly an Associate at the Office for Metropolitan Architecture and has also worked in the offices of Shigeru Ban and Dan Kiley. Mazereeuw completed a Bachelor of Arts with High Honors in Sculpture and Environmental Science at Wesleyan University and her Master in Architecture and in Landscape Architecture with Distinction at the Harvard Graduate School of Design where she was awarded the Janet Darling Webel Prize and the Charles Eliot Traveling Fellowship.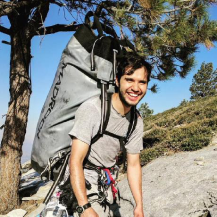 Carlos Sandoval Olascoaga
Project Lead, Co-PI
Postdoctoral Associate, Lecturer
MIT Department of Architecture, Schwarzman College of Computing
Carlos Sandoval Olascoaga is postdoctoral associate and lecturer at the Department of Architecture and at the Schwarzman College of Computing at MIT. His work has contributed to uncovering the computational and political history of spatial data and digital tools for design and geocomputing, with the development of novel computational methods for data and design analysis and resilient urban design, and with computational frameworks that integrate CAD, GIS, and community participation. Carlos holds a SM and PhD in Design and Computation with Distinction from MIT, a Master of Architecture from UC Berkeley, and a Bachelor of Architecture with Distinction from UNAM in Mexico.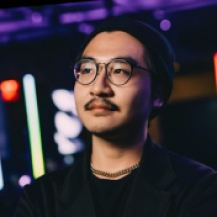 Calvin Zhong
Design Lead
Graduate student, MIT Department of Architecture
Calvin (he/him) is a designer, fabricator, and informal cultural critic from, and based in, New York City's Chinatowns. His work is interested in issues of media, representation, and technology in the built environment. Professionally, he has worked across architecture and construction, digital strategy, and innovation for public agencies, growth-stage startups, and established design studios. His work has been exhibited in the Venice Biennale, Victoria and Albert Museum, MIT Weisner Gallery, and Het Nieuwe Instituut. He received his B.S. in Comparative Media Studies and Architectural Design from MIT and has recently returned for a joint Master of Architecture and City Planning.